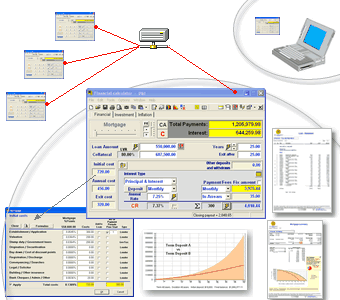 Your professional Financial calculator
If you are looking for a financial calculator for commercial lending or for professional financial advice then surely you are referring to RICalc.

RICalc ® is the preferred financial software for many commercial Lenders, Financiers, Advisers, Accountants, professionals and Government departments.

Institutions, companies and professionals use it because it is productive, has comprehensive commercial features, complies with Consumer Credit legislation and is accurate and reliable.




Our clients use RICalc in a variety of ways, from a central database on the network to on the move mobile advice:
Companies use it at head office has the primary lending software for processing loans & leases
Professionals take RICalc on a laptop to advise clients on financial matters
The Australian State Government(s) uses RICalc for Consumer Credit policing & regulation
RICalc is financial software for commercial business:
Based on market practices.
Precise, fast to operate and reliable.
Easy to use with minimum training to operate efficiently.
Flexible and comprehensive with all the important figures in one place.
RICalc is the finance calculator for commercial and for professional business.
We understand your business. Our business is to make you business easier.