Brochure
(328 KB)
All Financial calculators
in one
Mortgage
Mortgage Offset
All-in-One equity
Canadian Amortization
Line of Credit
Loan
Lease
Commercial Leasing
Hire Purchase
Savings
Funds
Retirement
Superannuation
Perpetuity
Equivalent interest rate
Comparison rate
APR
AAPR
APY
APYY
Bank statement reconciliation
Advanced
Financial Functions
NPV, FV, IRR / MIRR

Financial calculator
Financial calculator
for
true lending and savings
.
Financial software for borrowing and investment with amortisation schedule and capitalisation schedule.
Debit & credit bank statement for Mortgage loans, short term personal and business Loans, commercial Leases and Hire Purchases.

True interest-bearing Deposits, future value projections of Funds, Annuities, retirement Superannuation and Perpetuities.

All calculators in one
Foreign Exchange indicative price


Financial
,
Investment
,
Inflation
,
Statistics
,
Graphing
,
Scientific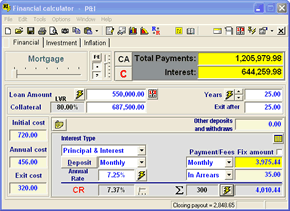 Financial calculator
Technical features

Fin Brochure (179 KB)
Not too familiar with Business Finance?
Learn with RICalc tutorials.
Take control of your Finances with facts
How can you use the Financial calculator?
Reduce debt and save money on your Mortgage, Loans and Leases.
Still on quoted interest rates? You need True Rates to properly compare financial products.

Find out the true costs on mortgages, loans and leases and the real yield on savings and investments.
Consolidate debt, reduce the term of your mortgage, check out the effect of extra loan repayments or withdraws for a renovation...
Compare What-If saving scenarios, loan refinance...
Verify your bank statements calculations.
Reconcile bank statement interest calculations, check for interest errors and recoup overcharged amounts.
Invest wiser in Cash, Funds and Retirement funds.
Quantify taxes and inflation on your future investment.
Estimate your superannuation retirement and how long the income will last in today's equivalent money.
Compare funds with different returns and costs.


Main features
Financial software with amortisation schedule, capitilisation schedule and debit & credit bank statements in periods or actual calendar days.
Amortisation schedule by fiscal year.
Mix interest types, interest rates, payments, up-front costs, ongoing and exit costs and taxes.
Manual transaction overwrite, regular or irregular transactions in periods, in period date or exact actual calendar date.
Flexible allocation of fees & taxes with custom descriptions plus your own custom formulae.
Calculate from simple interest to flat, from compound interest to annuity and in single or multiple streams.
Comparison rate automatically computed for all financial cases. See why True rate is important.


Lending
AUS CR - Comparison Rate
USA APR - Annual Percentage Rate
AAPR - Average Annual Percentage Rate AAPR Net


Savings
APY - Annual Percentage Yield
AAPY - Average Annual Percentage Yield
AAPY Net, AAPY Real
View, print, e-mail, export or chart both the statement and amortisation or capitalisation schedule reports.
Perform financial What if analysis and compare the base case to similar scenario(s) or compare to other accounts(s), for example: current mortgage versus loan re-finance, biweekly mortgage payments versus monthly, choice between loan products.
Verify bank statement interest calculations and check for errors, mistakes and recoup bank overcharges.
Mortgages

Standard mortgages, variable and fixed home mortgages, honeymoon, ARMs, All-in-One, Equity mortgage loans, Offset savings mortgage loan, Line of Credit, Reverse mortgages and other irregular mortgage loans.
Set extra deposits or lump sums, withdraws or fees, to occur once only or to re-occur at regular interval.
See Report: Summary and Graph: Mortgage

Loans

Short term loans with up-front interest, deferred interest, balloon payments, deferred payments by periods or calendar.
Choose from 10 different types of interest, from simple to compound and from flat to annuity.
See Report: Statement and Graph: Loan and Ongoing fees

Hire Purchases

Actuarial method or Rule of 78 or Lease Factors.
Choose treatment of last payment, balloon and residual amount.
See Amortization Schedule and Debit & Credit Statement

Savings
Cash Investment

Term deposits and Savings accounts with tax on deposits, withdraws and earnings.
Compare real yields after tax and inflation.

Funds
Retirement

Estimate investment fund values after annual costs, taxes and inflation.
Estimate retirement and superannuation income in today's equivalent money after taxes fees and inflation.

Perpetuities

Income forever.
Account profile with Borrower(s), Guarantor(s), Properties and client profile account management, plus define your own account custom fields.
See Account profile
Compare finance scenarios, Mortgages, Loans, Hire-purchases, Leases, Term Deposits, Annuities, retirement funds ... See Account comparison



More
shots

---